Digitally Empowering
A global network of FINTECH PLATFORMS.| PRICE COMPARISON PLATFORMS.| DECISION MAKING PLATFORMS.

We foster a inclusive environment & if you love challenging yourself, we invite you to join our family. 
We help consumers find the best products suited for their needs, while saving them time & money by using technology-assisted intelligence & innovations.
We have been in operation for over 14 years, has assisted some of the most notable fintech firms across Europe and other continents in gaining a competitive advantage in the market through digital innovations.
We are part of Gruppo MutuiOnline, a financial services company that ranks among the top retail lending broker in the Italian market, offering services via digital and other remote channels.
Techlens Global is Great Place to Work® certified since the year 2017 while regularly ranking in the top rank list of great Mid-size workplaces and best workplaces in IT & IT-BPM.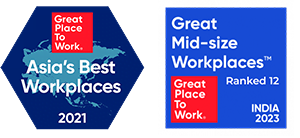 Our Beliefs
The foundation of our culture is a shared set of values that drives all of our decisions. They underlie how we operate, collaborate, develop & progress as a firm.
Focus on the consumer
We always keep the consumer in mind while making decisions, and we work hard to understand consumer demands and identify specific solutions that meet those needs.
Entrepreneurship
We live the company as our own & strive to anticipate the consequences of our actions. We make sustainable long-term decisions and take responsibility for our choices. The expression "this is not within my purview" is unfamiliar to us.
Analytical approach
Before taking action, we thoroughly assess problems and situations. We gather and evaluate relevant data; identify risks, including regulatory concerns and propose solutions. We create clear, well-supported proposals.
Why Work With Us
We approach all we do with greater care, while also striving to be a Great Place to Work. Our benefits are carefully developed to ensure your professional advancement, well-being, and work happiness.